WordPress, which is written in PHP, was first released in 2003 by Matt Mullenweg and Mike Little as a tool for a blogging platform called b2/cafelog. Since then, it has evolved significantly, constantly improving its features, security and performance. WordPress has turned into a solid CMS that supports millions of websites, going beyond its initial purpose as a blogging tool.
What is WordPress?
WordPress is an open-source content management system (CMS) that allows users to easily create and manage websites. It was originally developed as a blogging platform, but has evolved into a versatile CMS that supports different types of websites, including e-commerce stores, business sites, portfolios and more. With an intuitive interface and extensive customization options, WordPress allows both beginners and experienced developers to create stunning websites without the need for advanced technical skills.
Why is WordPress so popular and easy to use?
There are several reasons why WordPress has gained wide popularity and is a popular choice for web developers around the world for custom WordPress websites development:
User-friendly interface: WordPress offers a user-friendly interface that makes it easy for anyone to manage and update site content without extensive technical knowledge.
Customization options: WordPress offers a large variety of themes, templates and plugins, allowing users to customize the look and functionality of their sites to meet their specific needs.
Flexibility: Whether you want to create a simple blog or a complex e-commerce platform, WordPress can handle it all. It offers flexibility to adapt to different website requirements and scales easily as your business grows.
Active community and support: WordPress has a large and active community of developers and users who contribute to its continuous improvement. This community provides valuable support, resources and documentation, making it easier for users to find solutions to their queries or problems.
WordPress usage statistics
WordPress has truly become a dominant force in the web development industry. With a staggering 810 million sites using this platform, WordPress has an impressive 43% share of all websites. This remarkable statistic shows the widespread trust placed in WordPress by individuals, companies and organizations around the world. In addition to its huge usage, WordPress maintains an incredible 64.2% share of the CMS market, outperforming its closest competitor by more than ten times. These numbers underscore the enormous popularity and dominance that WordPress holds in the world of content management systems.
What are the most popular WordPress websites?
The best WordPress websites demonstrate the versatility and power of this most popular content management system. Representing a variety of industries and interests, these sites are excellent examples of how WordPress can be customized to meet different needs while maintaining exceptional functionality and design.
Top 20 Popular WordPress Websites:
Microsoft News
The New Yorker
Vogue
BBC America
The Walt Disney Company
Sony Music
PlayStation.Blog
Bloomberg Professional
TechCrunch
Variety
TED Blog
MTV News
Quartz
The White House
The Official James Bond 007 Website
The Official Star Wars Blog
Etsy Blog
Harvard Gazette Online
Mercedes-Benz
Sweden's Official Website
Microsoft News
Microsoft News is a well-known site that offers a wide range of news, including current events, technology, business and lifestyle. It gathers news from a variety of sources, including trusted publishers, and presents it in an easy-to-use format. Users can customize the news feed to suit their interests. It covers a variety of topics such as politics, science, sports and entertainment, keeping you up to date with what's happening in the world. Microsoft News also includes exclusive articles and interviews, providing more in-depth information. It's a reliable and diverse platform that allows you to stay on top of the latest news.
The New Yorker
The New Yorker is a famous magazine that has been showing American culture since 1925. It contains a mix of long articles, fiction, essays, poetry and beautiful illustrations. The magazine covers a wide range of topics, including politics, art, literature and popular culture. It provides in-depth reporting and thought-provoking articles, making it a trusted source for readers who want to better understand the world. The New Yorker has a unique style and supports both rising and established writers and artists. It continually influences the conversation about culture and delivers quality stories.
Vogue
Vogue is a well-respected fashion and lifestyle magazine that has become a digital giant. The site offers a combination of fashion editorials, celebrity features and insightful articles, providing inspiration and setting trends for fashion enthusiasts around the world. With stunning photos and an authoritative voice, Vogue has become a trusted source for the latest fashion trends and industry news. Whether you're looking for fashion advice or want to learn more about the world of fashion, the Vogue website is a destination for style-conscious individuals.
BBC America
BBC America is a popular website that brings British television programs to American viewers. It offers a variety of content, including dramas, documentaries, lifestyle programs and news. The site is known for its high-quality productions and engaging stories, attracting a loyal fan base. It allows fans to stream their favorite programs, catch up on the latest news and stay up-to-date on British entertainment news. BBC America is also a trusted source of accurate and reliable journalism, providing news and analysis on a global scale.
The Walt Disney Company
The Walt Disney Company is a famous entertainment company known for its movies, theme parks and merchandise. The site offers a wide range of Disney movies and TV shows, from animated classics to live action hits. The website also provides detailed information on Disney theme parks, cruise lines and resorts around the world. The site keeps fans engaged with news, trailers and behind-the-scenes content. In addition it highlights Disney's commitment to social responsibility and environmental initiatives. The Walt Disney Company's website brings joy and stimulates imagination with beloved characters, enchanting stories and magical experiences for all ages.
Sony Music
Sony Music is a popular online service representing one of the largest music labels in the world. It offers many features for music enthusiasts, industry professionals and fans. The site has a wide collection of music from various genres, such as pop, rock, hip-hop and R&B. Users can browse artist profiles, discographies and the latest releases from talented Sony Music artists and bands. It also provides news updates, interviews and behind-the-scenes content to keep fans connected. The site supports emerging artists, giving them a platform to showcase their work and gain exposure. With a user-friendly interface and multimedia content, the Sony Music site is a favorite for music lovers, providing an immersive digital experience that celebrates the power and impact of music.
PlayStation.Blog
PlayStation.Blog is a well-known website for PlayStation game console news, updates and announcements. It is the official blog of Sony Interactive Entertainment, which informs PlayStation enthusiasts about the latest game releases, news and insights. The site offers articles, interviews and in-depth coverage of upcoming games, as well as behind-the-scenes information. Visitors can also find reviews, previews and community commentary, creating a sense of connection among PlayStation gamers. PlayStation.Blog is a trusted source for gamers who want to stay up-to-date and engaged in PlayStation gaming.
Bloomberg Professional
Bloomberg Professional is a platform trusted by financial and business professionals around the world. It provides real-time market data, news, analysis and specialized tools to help users make informed decisions and stay ahead of the financial industry. From stock tracking to portfolio management, Bloomberg Professional is a complete information source for professionals navigating the complexities of global markets.
TechCrunch
TechCrunch is a very popular website that provides the latest news and insights on technology. It describes trends, innovations and breakthroughs in the technology industry. TechCrunch is known for its reports, articles and interviews with industry leaders. It attracts technology enthusiasts, professionals, investors and entrepreneurs who want to stay up to date on startups, gadgets, artificial intelligence, cryptocurrencies and more. With engaging content and the ability to report the news, TechCrunch is a trusted source for staying up-to-date in the fast-changing world of technology.
Variety
Variety is a respected entertainment magazine publication dedicated to movies, television, music and theater. It is known for the latest news, reviews, interviews and analysis. The site features a wide range of content, including box office reports, industry trends, awards coverage and talent profiles. Variety also covers major film festivals and events, keeping readers up-to-date on the latest entertainment news. With engaging articles and diverse viewpoints, Variety is a must-read for industry professionals and fans who love the ever-changing world of entertainment.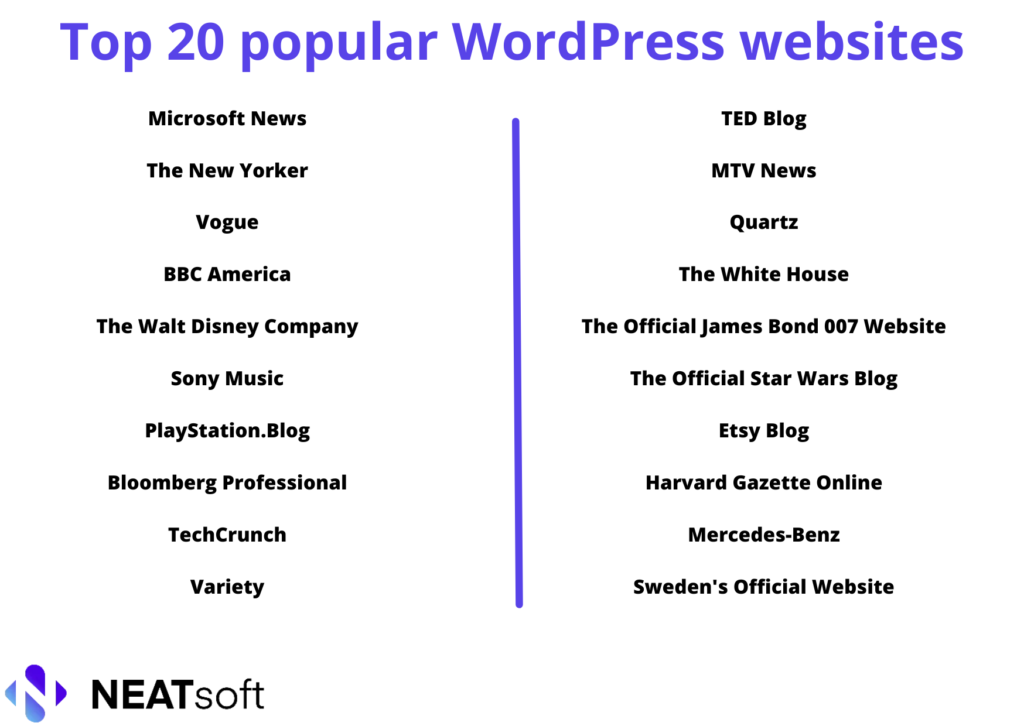 TED Blog
The TED Blog is a well known platform that expands the influence of TED Talks by providing engaging articles, interviews and ideas for sharing. It covers a wide range of topics and offers in-depth insights, personal stories and expert opinions that stimulate curiosity and inspiration. TED Blog encourages readers to extend their perspectives and actively participate in shaping a better future. It invites you to join the conversation and be part of a global movement for meaningful change.
MTV News
MTV News is a highly popular and widely recognized website that provides extensive news and information of music, pop culture and entertainment. Targeting a diverse audience of music enthusiasts and fans of all things entertainment-related, MTV News offers a lot of exclusive interviews, engaging articles and the latest news. The site keeps readers up-to-date on the latest music releases, trends and events in the industry. Whether it's the latest news about your favorite artist, behind-the-scenes insights on the making of a hit song, or in-depth features on the hottest movies and TV shows, MTV News has it all! Keeping its finger on the pulse of popular culture, the site provides a dynamic and engaging experience for readers, allowing them to stay in touch with the ever-evolving world of music and entertainment.
Quartz
Quartz is a news platform known for its journalism and in-depth coverage of global topics. It offers insights into business, technology, politics, culture and more, using data-driven reporting and engaging content. Quartz takes a unique approach to storytelling, presenting news in a concise and accessible way that makes complex issues easy to understand. Readers appreciate its commitment to quality journalism and its exploration of global trends, innovation and social impact. Whether it's breaking news or in-depth features, Quartz provides a characteristic and informative reading experience that keeps readers informed and engaged in today's fast-changing world.
The White House
The White House is the official website of the executive branch of the United States government. It contains information about the president and his administration, including speeches, press releases and executive orders. The site also includes news, blog posts and videos about important politicians, events and accomplishments. Citizens can find resources on federal agencies, services and programs. The White House website promotes transparency by making government information available and making communication between the administration and the American people easier.
The Official James Bond 007 Website
The Official James Bond 007 Site is an online platform for James Bond fans. It provides exclusive content, news and updates on the films, characters and actors that make up the 007 series. The site offers in-depth features, behind-the-scenes footage, interviews and insight into how the films are made. Fans can stay informed about new films, casting and special events. The site also allows interactive engagement through discussions, quizzes and a journey through the history of the series. With engaging content, the site is a "must-see" for Bond enthusiasts, offering an exciting experience in the world of espionage and adventure.
The Official Star Wars Blog
The official Star Wars blog is a must-visit site for fans of the beloved series. It serves as a central place to stay connected to the Star Wars universe and its vibrant community. The blog offers the latest news, exclusive insights and behind-the-scenes stories to attract and inform readers. Whether it's updates on upcoming films, interviews with cast and crew, or in-depth articles exploring the vast knowledge of the Star Wars galaxy, the official Star Wars blog provides an engaging experience for fans of all ages. With a commitment to quality content and creating a sense of belonging among Star Wars enthusiasts, this site remains the best source of information on all things Star Wars.
Etsy Blog
The Etsy blog is a popular website that presents creativity, crafts and entrepreneurship. It brings together artists, creators and sellers on Etsy to share their stories, present their products and offer helpful resources. The blog features interviews, DIY tutorials and inspiring articles that provide insight into the world of independent artists and crafters. With engaging content and support for small businesses, the Etsy Blog is a go-to for those looking for unique, handmade products and a stronger connection to the crafting community.
Harvard Gazette Online
Harvard Gazette Online is the official news service of Harvard University. The site provides news and reliable reports on the university's latest research, achievements and events. It covers a wide range of topics, from academic breakthroughs to cultural discussions, informing readers about Harvard's contributions to various fields. With a respected reputation, Harvard Gazette Online is a trusted source for students, faculty, alumni and anyone interested in staying in touch with Harvard's intellectual and cultural happenings.
Mercedes-Benz
Mercedes-Benz is a well-known luxury car manufacturer that is known for its innovative engineering. Their website allows visitors to explore and customize a wide range of cars, SUVs and electric vehicles, providing detailed information about each model. The site also showcases the brand's impressive history in the automotive industry and offers various services such as financing and customer service. With an attractive design and informative content, the Mercedes-Benz site offers a lot of online information for car enthusiasts and those interested in high-end luxury cars.
Sweden's Official Website
The official website of Sweden is a comprehensive platform providing information on the government, culture and lifestyle of Sweden. With insights into history, traditions, sights and practical information, it serves as a valuable resource for travelers, students and those interested in the country.

Why should you hire a WordPress developer from NEATsoft?
Whether you need a website for your business, an online store, a blog or a magazine, WordPress is the platform to go for. It is a wise choice not only for small businesses, but also for large enterprises. The fact that many of the world's most popular websites are built on WordPress is proof of its effectiveness. Since leading brands have found success with WordPress, it is clear that this platform can work wonders for you as well. The key is to have a skilled WordPress developer by your side to ensure you unlock the platform's full potential.
Our team that we have at NEATsoft consists of highly skilled and experienced professionals who are experts in custom WordPress website development. We provide high quality solutions that exceed clients' expectations. Our developers have huge knowledge and experience in WordPress, using the latest technologies and best practices to create strong and scalable websites. We specialize in customizing themes and plugins, creating designs that work well on any device, search engine optimization and enhancing security. What sets us apart is our commitment to delivering exceptional results that are tailored to each client's unique requirements. We value clear communication, teamwork and attention to the smallest details, ensuring that every project is completed with precision and perfection. With many years of experience and a large number of satisfied clients, NEATsoft is a trusted partner for all your WordPress development needs.